Spherical roller Bearings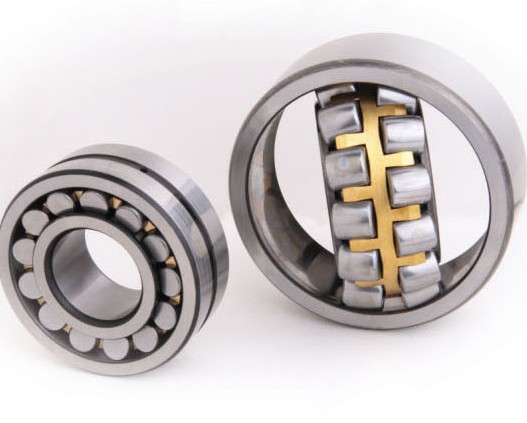 spherical roller bearing is consist of an outer ring with spherical raceway and an inner ring with double-raceway one or two cages and one group of spherical rollers. Due to the center of spherical raceway of outer ring is coinciding with the center of bearing which make it have the self-aligning property. This kind of bearing can adjust angular error or flexion caused by the angle of axle and bearing housing or axle bend.
spherical roller bearing has a high load carrying capacity for radial load and axle load in two directions. It especially suitable for carrying heavy loads and impact loads but this type of bearing permits a lower limiting speed.
The permissible aligning angle of spherical roller bearing working in normal conditions is 1o~2.5o. If bearings of this type have seals this function would be reduced.
The relevant data for aligning angle of different dimensions can be referred to the catalogue: bearing type selection.
Type C
The bearings of type C is fixed with flanges on two sides of inner ring two cages and movable flange between two rows of spherical roller. When bearing rotating the middle flange can move in axle direction. When bearing carrying axle load the load on the two rows can be adjusted. It makes load distributed equally in order to avoid stress concentrated and single row roller loaded.
Type CA
The bearing type CA has flanges on two sides of inner ring one cage and movable spacer in the middle of two rows of spherical rollers. When bearing rotating the middle spacer can move in axle direction. When bearing carrying axle load the load on the two rows can be adjusted. The load is distributed equally to avoid stress concentrated. If there is no movable flange the cage has the function as a movable flange.
Spherical Roller Bearings with Fixed Flange
Spherical roller bearings with fixed flange have flanges on the both sides of inner ring. In the middle there is a fixed middle flange at the two sides of inner ring and two cages. See the following drawing. The rollers are spherical type the same with type C CA but the roller length in axial direction are not symmetrical. When bearing rotating the middle flange ring can not move in axial direction but can lead rollers working properly. When the bearing carrying axial direction load it can not adjust the load on the two rows of rollers because that will easily make single row of rollers loaded or stress concentrated. Although this kind of bearing tends to be instead by C and CA type but in some working condition it still has advantages like occasions where axial load not big vibration load relative heavier.
Sealed Bearings
spherical roller bearings are generally open style. Closed types with seals at both sides are also provided. It can be divided into contact and non-contact style (low friction).
The bearings with seals on double sides used to be filled up with grease before out of factory. The quantum of grease is occupying 25%-35%. If customer have special requirement other brand grease can be chosen or the filled quantum can be adjusted. When fitting they are not allowed to be cleaning or heat over 80 Celsius degree it will have bad influence on bearings that make grease deteriorated and lossing. Under working at ambient temperature 30 Celsius degree to 100 Celsius degree
In common working condition spherical roller bearings with seals do not need to be filled up with lubrication grease however if under heavy load and high speed temperature over +70 Celsius degree The aligning function of spherical roller bearings with seals will be reduced somewhat.
Shaking Machine Bearings
When spherical roller bearings applied on shaking machine such as vibration sieve crusher etc it will make roller and cage cause high acceleration. Accordingly when designing we need to take special design to satisfy the working condition.can provide you special designed spherical roller bearings.
Split Bearings
For split spherical roller bearings its inner ring outer ring cage are vertically split into two parts with some angle. This kind of bearing will have mostly the same performance comparing to bearings with common structures and have a large load carrying capability. This bearing is suitable for the applications where bearings cant be mounted in axial. But due to inner and outer ring raceway have split face the rotating speed are relatively lower.
Other Designed Structure
Tapered Hole
spherical roller bearings inner hole normally is columned. But for some parts of dimensions and specifications tapered hole can also be provided with conicity is 1:12 or 1:30 (similar to 241240 dimension series.).In this case the original code should be added by K or K30 behind the bearing type. Through using adapter sleeve to fix the bearing on shaft it will be very convenient to be mounted and dismounted.
Lubrication Groove and Hole
In order to do lubrication easily can provide the bearing with groove and holes on outer ring in this case W33 should be added behind the original bearing code. If outer ring has only lubrication hole W20 will be added behind.
also can design spherical roller bearings with other structures such as bearings with snap ring groove on outer ring single row self-aligning roller bearing (angle error can be 4o)and many other types etc. If customers need please consult technical department.
can also design and manufacture spherical roller bearings with special structures according to customers requirements.
Cages
In the spherical roller bearings cages of the bearing type C supplied by are pressed steel cages CA type adopts brass solid cage. Different kind of material has different code to be expressed. See bearing material chapter.